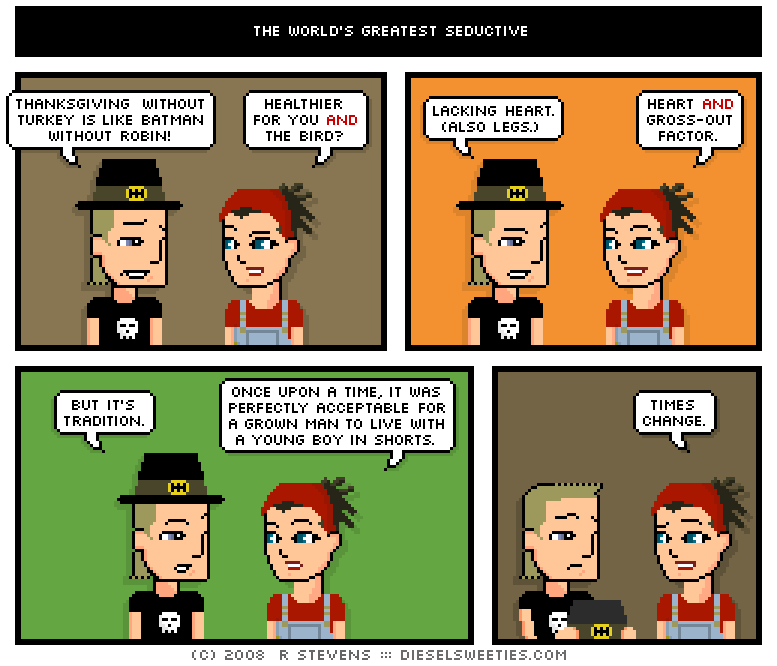 see more hipster robot webcomics and pixel t-shirts
The annual culling of turkeys is upon us. To celebrate, the lady and I are headed out west to meet up with my folks, my brother, his wife and son (so cyooot!), and various sets of grandparents, uncles, aunts, and cousins. We're leaving early tomorrow so I'll be away from a machine until Monday. Sorry to all my non U.S. readers, but thems the breaks. But don't worry, we'll get to the whole Batman thing when I get back. Also, I want to do a proper review of Chocolate. I've been meaning to for a while and few people have been asking about it so I want to give the movie its due. In short, I highly recommend it. But more when I get back.
So keep those emails rolling. I read every single one even if I don't always respond. You guys make blogging a real joy. I'm thankful for all of my readers! So with that bit of cheesy sappiness, I'll see you all next week. Have a great vacation if you're in the U.S. and if you're elsewhere, have a great weekend as well!